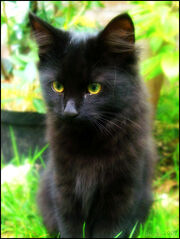 CONTAINS SPOILERS FOR THE POWER OF THREE AND OMEN OF THE STARS
This short-ish fanfic is about what could have happened if Hollyleaf had not revealed the true identity of the Three or vanished underneath the tunnels.
.............
"Enough, Ashfur. Your quarrel is with me. These young cats have done nothing to hurt you. Do what you like with me, but let them out of the fire." Squirrelflight hissed to the gray mottled tom in front of her. Ashfur snarled. "You don't understand. This is the only way to make you feel the same pain you caused me. You tore my heart out when you chose Brambleclaw over me. Anything I did to you would never hurt as much. But your kits.... if you watch them die, then you'll know the pain that I felt."
Squirrelflight lashed her bushy tail. "Kill them, then. You won't hurt me that way. If you really want to hurt me, you'll have to find a better way than that."
She took a deep breath.
"They are not my kits."
TO BE CONTINUED!
Ad blocker interference detected!
Wikia is a free-to-use site that makes money from advertising. We have a modified experience for viewers using ad blockers

Wikia is not accessible if you've made further modifications. Remove the custom ad blocker rule(s) and the page will load as expected.