Shadow is a black and white rogue.
Shadow
Image:Noimage.png
Alliances
Current Alliance
Rogues
Past Alliance(s)
None
Family
Mother
Unknown
Father
Unknown
Littermates
None
Mate
Moon
Kit(s)
None
Roleplay
Roleplayer
Night
Shadow is a nice rogue that lives in an abandoned twoleg nest. he is a good fighter. Shadow is seen in the alley and soon gets attacked by a cat named Snake . He soon beats him and then meets Moon his future mate. A few days later Moon admits that she has feelings for Shadow, Shadow says that he also has feelings for Moon.
A few weeks later Shadow is seen padding over to Moon and laying down next to her. Shadow then wakes up and waits for Moon to get up.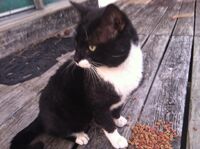 Ad blocker interference detected!
Wikia is a free-to-use site that makes money from advertising. We have a modified experience for viewers using ad blockers

Wikia is not accessible if you've made further modifications. Remove the custom ad blocker rule(s) and the page will load as expected.